The Beaches (or The Beach—even as a neighbourhood native, I don't know what to call it anymore) is a 3.4 kilometre stretch from Coxwell Ave. and Queen St. along to Queen's end at Fallingbrook Ave. It's northern limits are ever-expanding (there's now the 'Upper Beaches'), but it's namesake at the southern limits is a draw for thousands of tourists every summer.
Incredibly resistant to condo development, the commercial part of the Beaches is populated by independent shops that help keep Queen St. a tight-knit community. The neighbourhood has popular restaurants that bring in outsiders as well as locals (shout-out to Hogtown Smoke, the Green Eggplant, and the forever-missed Licks), but also has some delightful hidden gems that are may be well known amongst locals, but that outsiders remain (sometimes thankfully) unaware of.
Food
Vivetha Bistro
At the very end of Queen St. next to the Neville Park Loop, Vivetha Bistro has been a mainstay in the neighbourhood since 2005, serving healthy European style dishes at an affordable price. Dinner highlights include the Angry Salmon pasta (spaghettini with baby spinach and Cajun salmon) or the BBQ Thai Chicken & Shrimp Salad. Vivetha is most popular for brunch, which finds the cooks slinging out huge portions of typical brunch fare to locals who may very well come back later for dinner.
Cha Da Thai
This Thai restaurant at Queen and Kenilworth Ave. truly is a hidden gem; fans of the restaurant know that Cha Da Thai uses only the freshest ingredients, including certified Thai Hom Mali rice, to make dishes like chicken mussaman, basil seafood fried rice, and the best pad see ew of any of the other four Thai places in the neighbourhood. Curiously empty most of the time, the restaurant has a little-advertised open back patio, as well as large front windows where diners can enjoy their pad thai while people watching.
Xola
Recently opened, Xola is a tiny 17-seat space serves up delectable Mexican food at slightly odd hours (closed on Tuesdays, open for lunch Wednesday to Friday before closing and reopening for dinner). Xola is the Beaches only real option for authentic Mexican food until Little Italy's La Carnita opens a second location further west on Queen. The restaurant has five different guacamole options (possibly the best in the city, definitely the surrounding neighbourhoods), deliciously tender fish tacos, and whose friendly waiters provide quick service to tables to quell the common wait-lines.
Beech Tree
Beech Tree, a small gastropub with shimmery Victorian wallpaper and cookbooks on the shelves, is a hit with Beacher's living above Queen St. looking for a meal along Kingston Rd. Beech Tree's menu makes up for its limited options with fresh locally sourced ingredients and rich flavouring. The one page menu is complimented with an extensive, multiple page cocktail list that gives locals an appreciated change from the surrounding pubs.
Treats
Tori's Bakeshop
This bakeshop is the place to go for Beaches health-nuts, serving up dairy- and gluten-free (as well as vegan) cupcakes, donuts, loaves, pastries in a small green-themed storefront. The Bakeshop just recently got its liquor license, and is looking to become a wine-bar at night.
The Belgian Chocolate Shop
Intricately crafted chocolates from the Belgian Chocolate Shop are a perfect gift for any Mothers Day, birthday, or as a special treat. Sticking with tradition, the shop foregoes trendy flavour combinations in favour of classics like Cupidon, Grand Marnier, Chataigne, and mice-shaped Souris chocolates.
The Nutty Chocolatier
Seemingly entirely staffed by local high schoolers, the Nutty Chocolatier provides the best (and only) selection of British candied goods and fudge in the Beaches. The neighbourhood has forgone obnoxious candy stores like Sugar Mountain in favor of stores like the Nutty Chocolatier who's chocolates and hard-to-find products from across the pond keep locals coming back for more.
Coffee
Wunderland Gallery and Espresso Bar
The first gallery coffee shop to open in the Beaches a few years ago, Wunderland is a hipster's paradise for those looking to escape the two Starbucks located two blocks away on either side. Inside a house, locals have to be careful to enter the door on the right, as the door on the left leads into a family's apartment. Worth a stop if only for the delectable coffee, Wunderland's patronage relies on word of mouth, so customers truly are locals that return for the friendly owner, Peter, and a chance to gawk at local art.
Savoury Grounds
This Kingston Road coffee shop recently made its third store move around the intersection of Kingston and Scarborough Rd. to a location on the northeast corner, it's smallest space yet. Although the coffee shop has been getting smaller and smaller, it's coffee quality and passionate baristas remain unchanged—sandwiches, homemade muffins and steamy drinks are all delicious and affordably priced. A staple on Kingston Rd. for over 17 years, Savoury Grounds roasts all the beans for their two locations (the other in Corktown) on-site every 48 hours.
Film
The Fox Theatre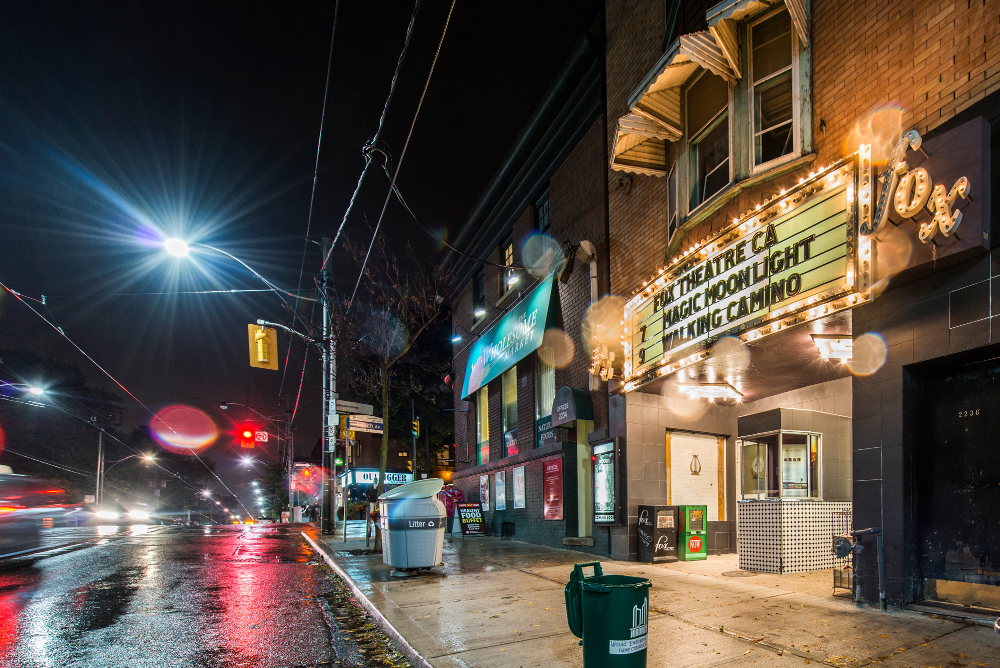 Operating since 1914, 'The Fox' is a small, second-run single-screen theatre. A small concession booth (now serving alcohol) offers cheap popcorn and drinks to patrons, and the small theatre always has seats to choose from, occupied almost solely by local members. The Fox also offers what may be the best movie-membership deal in the city— $10 for a yearly membership, which gets members tickets for $7. The Fox is a neighbourhood relic, hiding in plain sight but never forgotten in Beachers' hearts as the place where they attended a birthday party, a school-run screening, or a cheap Tuesday movie.
Places to skip
The Goof
While perhaps not entirely unknown (it has it's own Wikipedia page), The Goof, or Garden Gate restaurant, has been around for 62 years serving Canadian Chinese and diner food. Locals either love it or hate it; it's a neighbourhood legend created from it's outside sign (burnt-out lights turned Good Food into Goof), but the food is consistently starchy, greasy, and bland. Fans claim that The Goof's appeal is that it doesn't pretend to be something it's not, but even as a greasy spoon, The Goof falls flat.
Outrigger
The Outrigger at Queen St. and Beech Ave. is diagonal to the Goof, and is also a place to skip. With a menu very similar to yet more expensive than the Green Eggplant's, the Outrigger's table service is slow and spotty, and although their portion sizes are large, items seem to be consistently sent out of the kitchen made incorrectly. Avoid the allure of the outdoor patio and just head westward to the Salty Dog for a patio or the Green Eggplant for the same, but better, food.
Bagels on Fire
Unless you get here when it opens, you're out of luck if you want one of Bagels on Fire's delicious coconut bagels. However tasty the bagels may be, they are often small and misshapen, and a late-morning stop-in shows many empty trays with no hope for a fresh batch. Sandwiches can be had for around $6, but patrons are better off grabbing a fresh muffin or sandwich from the Remarkable Bean a few stores over.
Wild Wing
Albeit a chain, the Beaches Wild Wing is consistently empty for a reason. Wings often come still cold in the middle, with sticky tables and questionably-cleaned buckets for wing bones. Any wing-lovers should satisfy their craving by heading west along Queen St. to Hogtown Smoke, St. Louis Bar and Grill, or the just-opened Wood Firepit & Tap at Queen St. and Leuty Ave.